You're a very lucky mom if your daughter asks you to give a mother of the bride speech. This opportunity is a once-in-a-lifetime one, so be sure you make it as perfect as possible. Follow these steps to make the best mother of the bride speech ever. We have hints and tips to lead you every step of the way so you don't miss anything vital. Your daughter will have tears in her eyes by the time you're through, and will know that her decision to include you in the toasts was a good one. Ultimately, this speech is meant to encapsulate the love you have for your daughter, so as long as you make your mother of the bride speech full of love and well-wishes, you've done your job.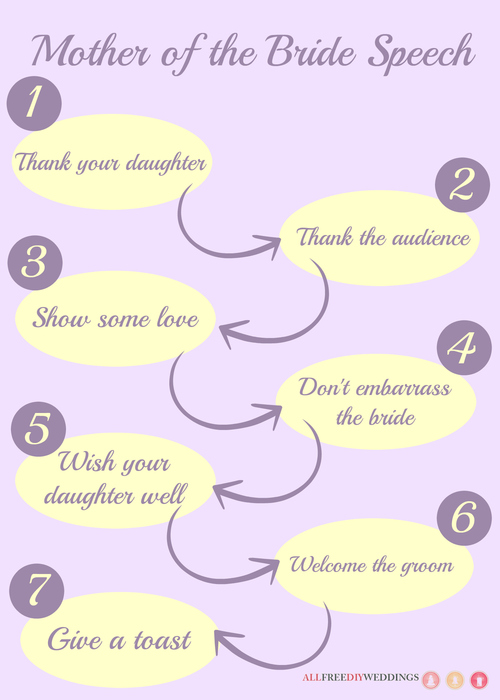 1. Thank your daughter for letting you speak. Not everyone loves sitting through a host of speeches, so a lot of brides and grooms try to keep it to the maid of honor and the best man. Clearly, your daughter wants you to be one of the special people to toast at your wedding, which says something about your relationship with each other.
2. Thank the audience for coming. Even if you took care of the financials of the wedding, or even the planning, and you feel they should be thanking you, don't be worried. You will be thanked. However, the reception wouldn't happen without the couple's closest friends and family showing up, so be sure to thank them in your mother of the bride speech for spending this special day with the happy couple and make them feel welcome.
3. Tell your daughter you love her. You do this every day, seven days a week already, but today is the day she wants to hear it the most. After all, this mother of the bride speech is about how much you love your girl, in the end. She is your ray of sunshine, and the audience couldn't possibly fully understand your love for her, but she will understand, and she will appreciate you reaffirming this.
4. Don't embarrass the bride. You probably thought the days of "Mom, you're embarrassing me!" were over when she graduated high school, but this rule applies during the mother of the bride speech. Anything you say of your daughter, especially when she was younger, is bound to be slightly blush-worthy, so just ask the bride if you can mention a certain story if you're not sure. It's always better to be safe than sorry.
5. Wish your daughter well. There are a variety of ways to do this in the mother of the bride speech. If you're religious, you can do this in the form of a short prayer, or if you're literary, you can write her a poem. Find whichever way captures your relationship best to send your daughter off to her new, happy life with with the same warmth and tenderness with which you helped her lead her old one.
6. Welcome the groom to the family. Like it or not, this man is officially a part of your family. And, let's be honest, if your darling daughter chose him, you probably do like him. In your mother of the bride speech, give him a warm welcome – and remind him how lucky he is to have a bride like your daughter. Don't ever let him forget.
7. Give a toast. Toast the audience, toast the celebration, but most importantly, toast the happy couple. A marriage blossomed today, and that deserves a blessing. There is no one better to give it than the woman who helped make the bride the best she could be and stood with her for her entire life.
Mother of the Bride Duties
As your daughter's big day gets closer, you'll want to make sure you know the mother of the bride duties. The maid of honor handles a lot of the planning to help out the bride, but moms can have their fair share of tasks as well.
1. Be supportive and encouraging when helping your daughter find a wedding dress. While some brides are overjoyed by shopping for hours on end for the perfect dress, you know your daughter best, and it can turn into a stressful search.
2. Research family traditions that have been incorporated into relatives' wedding ceremonies. You can also find old family heirlooms that can be passed down to your daughter on her most special day.
3. Be a backup contact for caterers, florists, and other services. If the bride has a rehearsal or appointment and cannot take a call or another appointment, be there for her when you can. Just make sure you've communicated with her on what she wants. You don't want to make a decision about, say, flower colors that she hasn't approved.