25 Sexy Wedding Dresses for 2015
Posted by trubridal in Wedding Dresses
25
Aug
2016
Luckily, sexy elegance has made its way down the aisle. Designers aren't afraid to combine traditional and  sexy styles together and modern day brides aren't afraid to wear them. It's their big day, so they can wear what they want, right?
Are you brave enough to wear a sexy Wedding Dress when you walk down the aisle? If the answer is yes, then get ready to fall in love with our list of 25 gorgeous Wedding Dresses created by the most talented bridal designers.
They say that every woman out there has her Wedding Dress waiting for her. Maybe your dream Wedding Dress is listed below.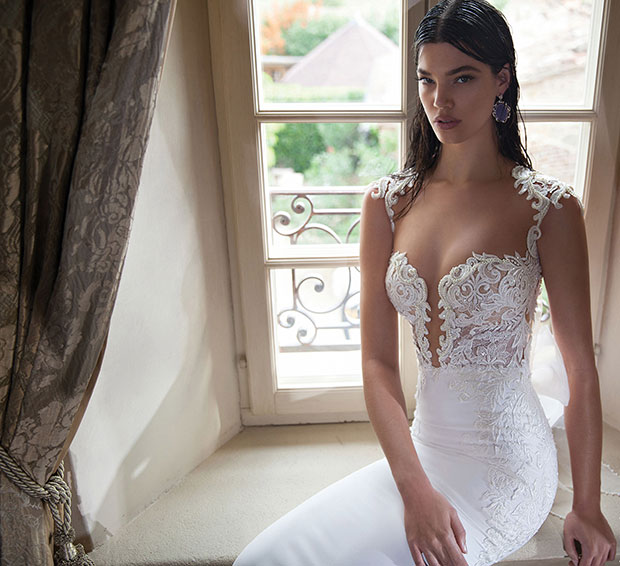 Source
Draw attention to your front with this laced plunging neckline. This dress might be scary for some brides but it's absolutely gorgeous. Plunging neckline works best on women with smaller bust.
The dress is designed by bridal designer Berta. We must admit that every Berta's dress is a masterpiece. The brand's signature are cut out designs and plunging necklines. If you want to show off your beautiful curves on your wedding day, Berta might be your ideal choice.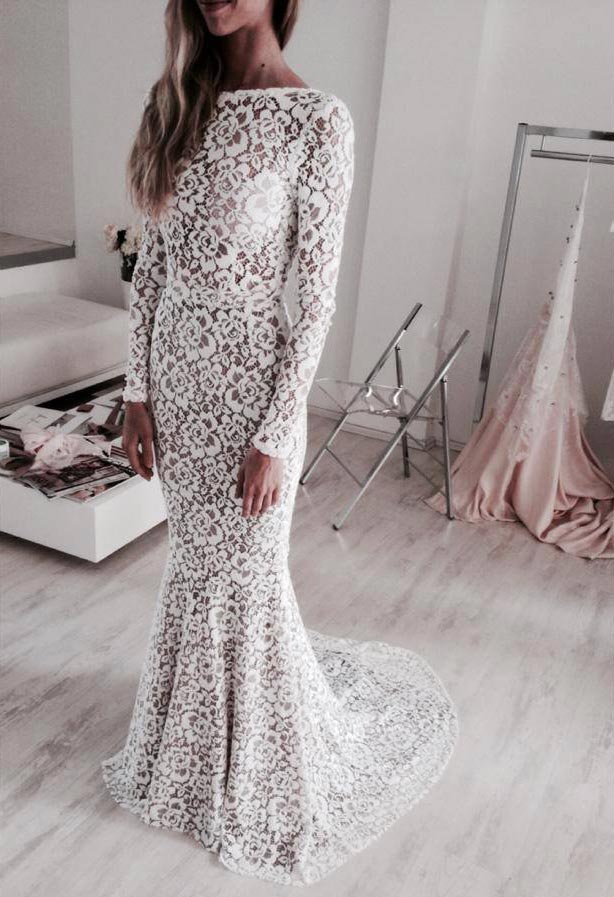 Source
Lace's intricate beauty has captivated Wedding Dress designers and brides. This fine fabric has been a staple in wedding fashion for years.  Brides love it because of its romantic and delicate nature while designers love its versatility.
This gorgeous lace Wedding Dress with long sleeves is designed by Serbian brand Mihano Momosa.
3. SHEER PLUNGING NECKLINE & LONG SLEEVE Wedding Dress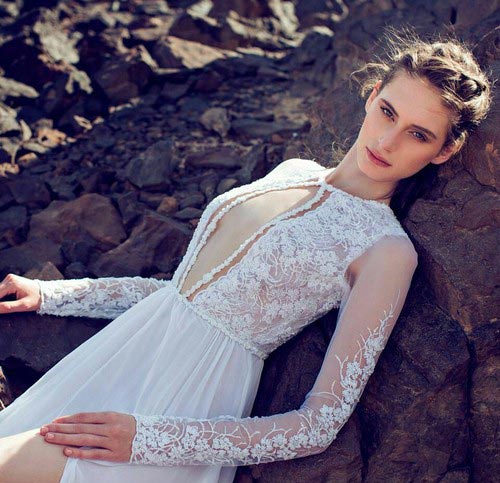 Source: weheartit.com
Latest must-have in bridal fashion is definitely plunging neckline. When paired with long lace sleeves, this detail can be a seductive and elegant look.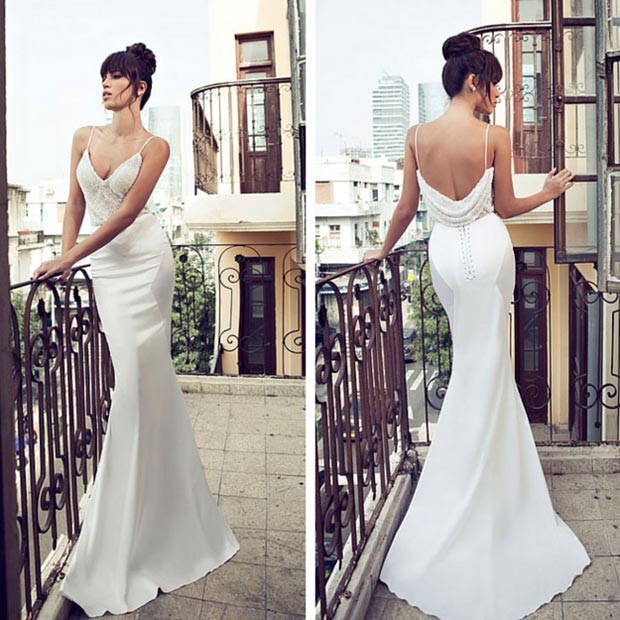 Source
Maximize your sex appeal in this beautiful Wedding Dress with open back, V neckline and thin straps.  Wedding Dresses with open backs are ideal for summertime. In this figure flattering dress, chic elegance is ensured. Designer of the dress is Julie Vino. As you can see, her dresses are unique and flattering.
Open back dress looks best with hair pulled back. It's the back that you want to show off so there's no reason to hide it with your hair.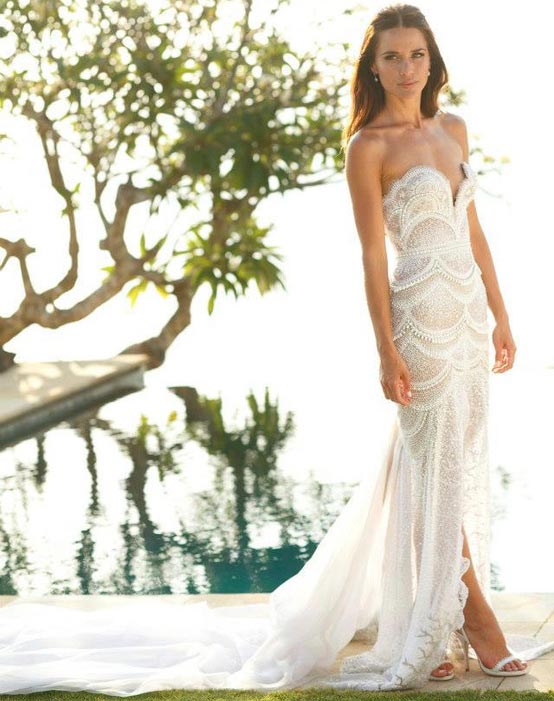 Source: pinterest.com
Lace, sweetheart neckline and low leg slit… can you ask for more? Lace gives it that timeless look while slit and sweetheart neckline sensuality. Gowns like this one will make your face shine and your groom's jaw drop!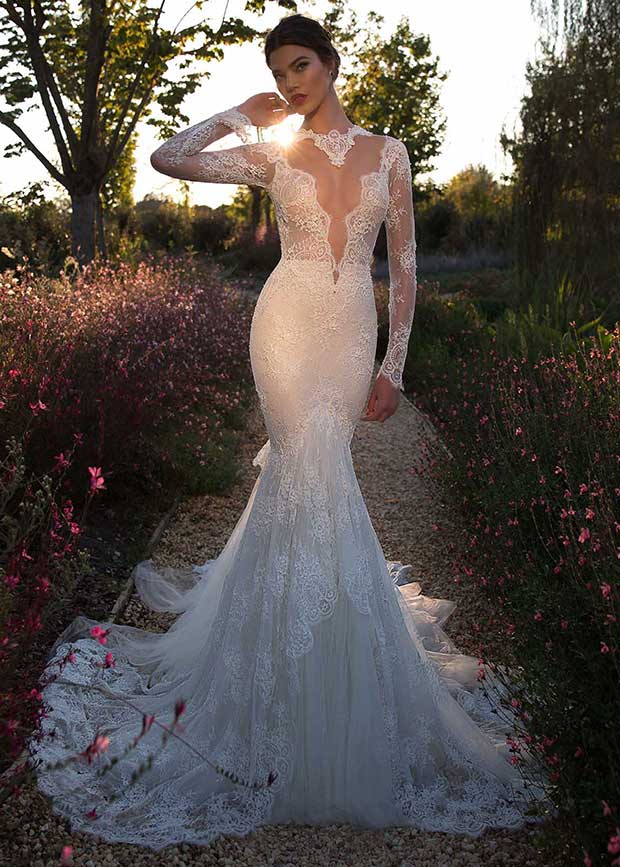 Source
Can you imagine how thrilled  your groom would be seeing you in this dress on one of the most important days in your life? This masterpiece is a dream come true for all lace-loving mavens (and all grooms, too).
Designer of this beauty is Berta.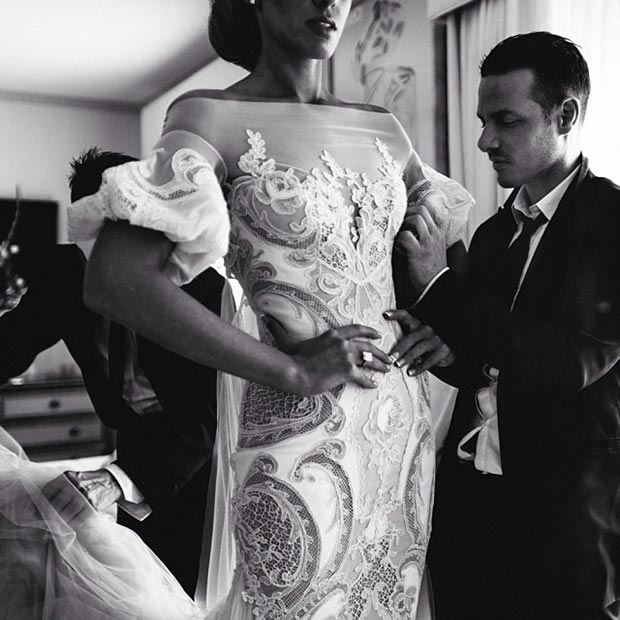 Source
This dress is a show-stopper and will make you the center of attention.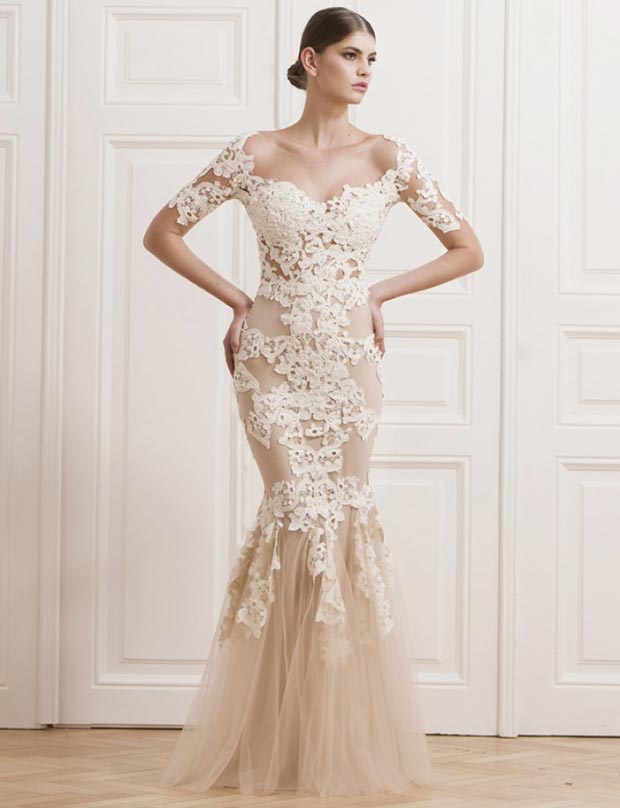 Source
If you're not into traditional white Wedding Dress, don't be afraid to break the rules in this nude gown with amazing lace details. It's so graceful!
Designer: Rhea Costa
Price: $ 1,837.10
9. LACE LONG SLEEVE PLUNGING Wedding Dress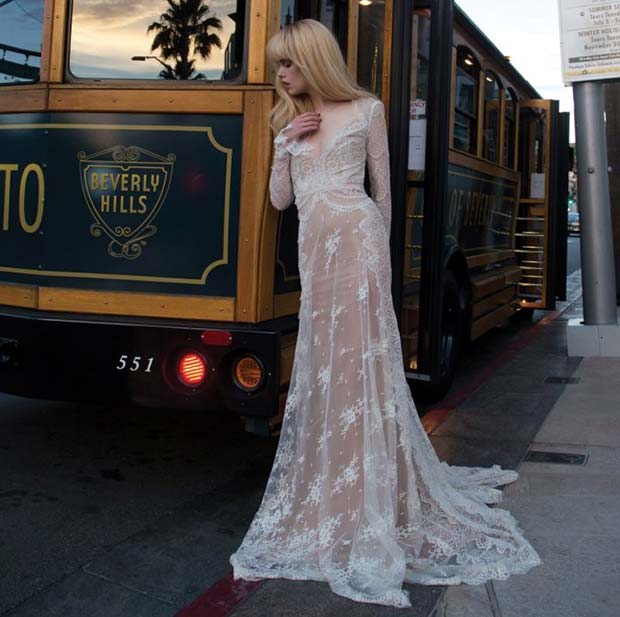 Source
If you're looking for a Wedding Dress with a romantic twist on the traditional, this dress might be your perfect choice.
Inbal Dror, Israeli designer, has taken the bridal fashion to the next level. Her dresses are sultry, sexy and absolutely gorgeous.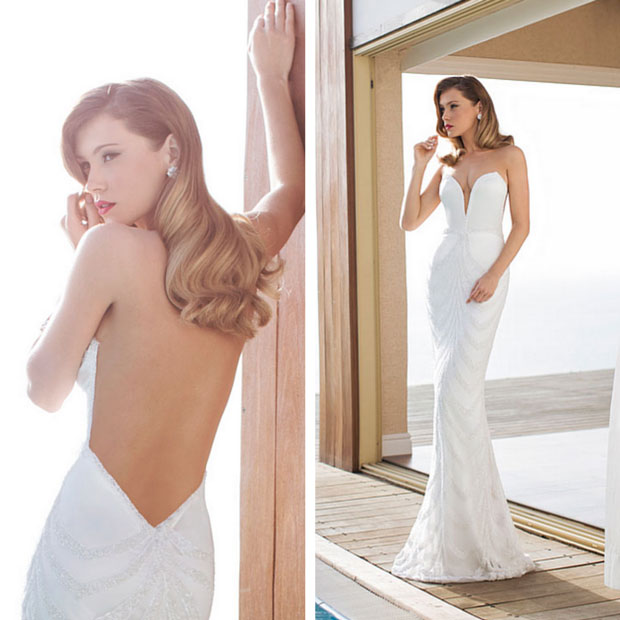 Source
Backless Wedding Dresses are so seductive! This dress will make everyone stare at you with pure admiration and delight.
Designer: Julie Vino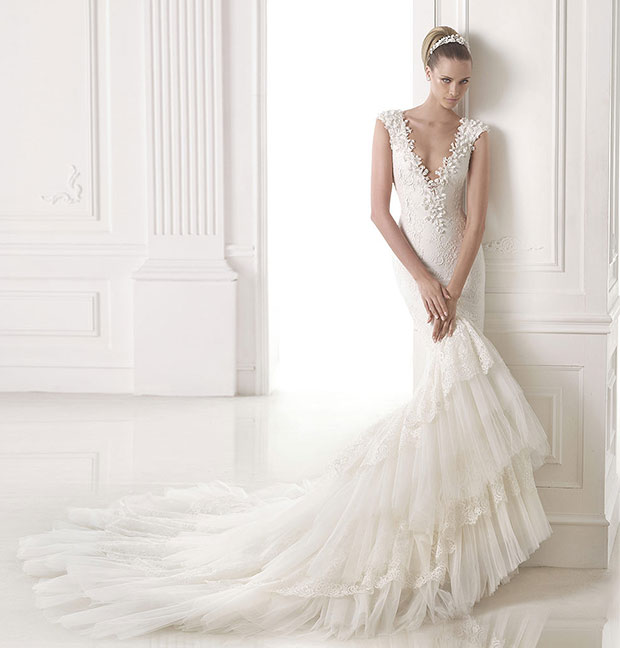 Source
Flowers and gemstones on the V neckline are beautiful addition to this mermaid Wedding Dress. Lace and tulle are always a good combination – you cannot go wrong with it!
If your body is pear shaped or you have big hips, mermaid dress will perfectly emphasize your curves.
Designer: Pronovias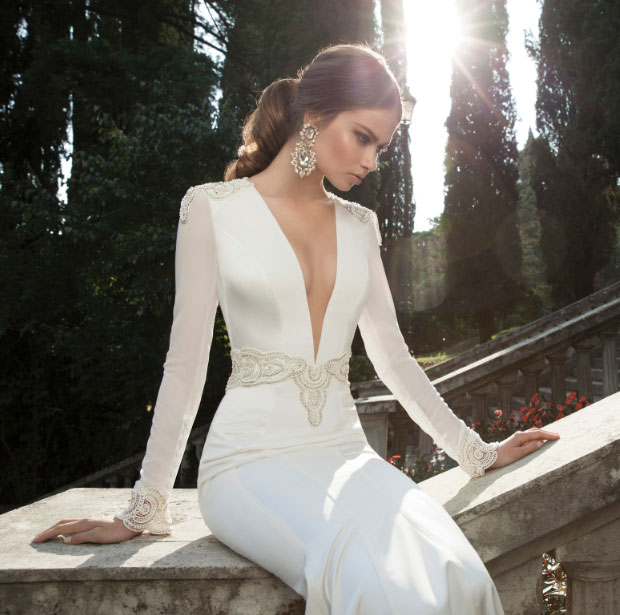 Source
Amazing but simple lace details give this dress a timeless feel and look. This elegant gown with plunging neckline will ensure that you turn everyone's heads, especially while walking down the aisle to your soul mate.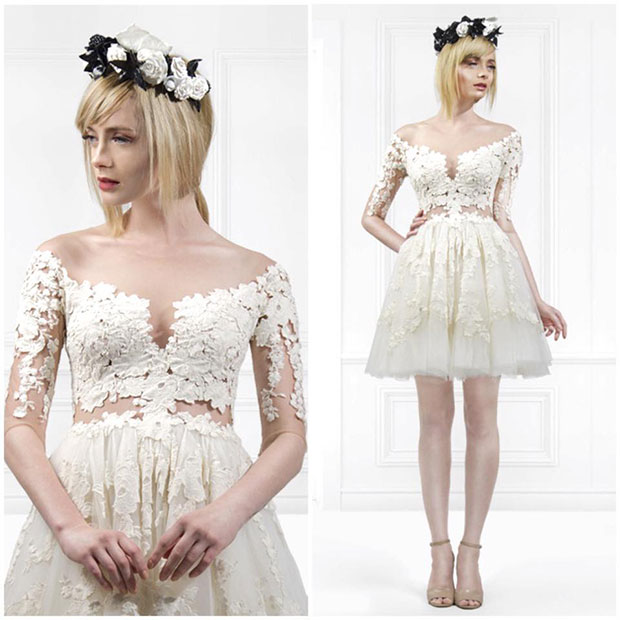 Source
This dress is proof that short Wedding Dress can be chic and sexy at the same time. Small cutouts make this dress extremely attractive and flattering.
Designer: Rhea Costa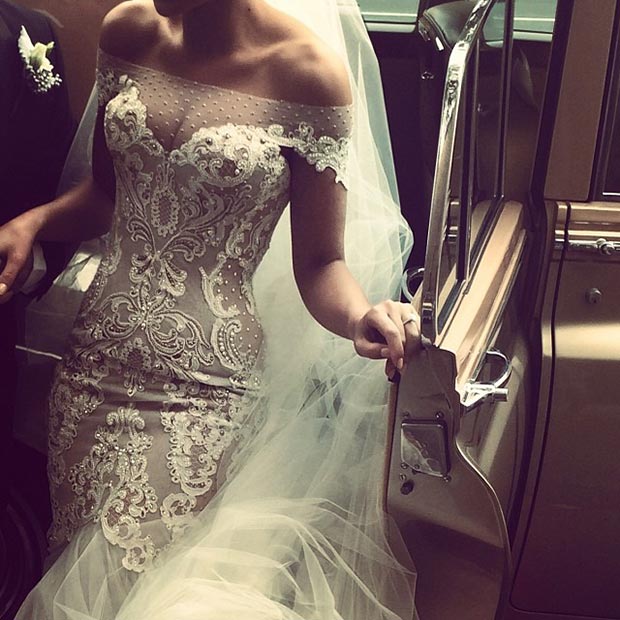 Source
Just one look at this dress and you instantly fall in love with it. This gorgeous Wedding Dress will give your guests something to swoon over during your walk down the aisle.
J'Aton Coutoure is the name behind this luxurious dress.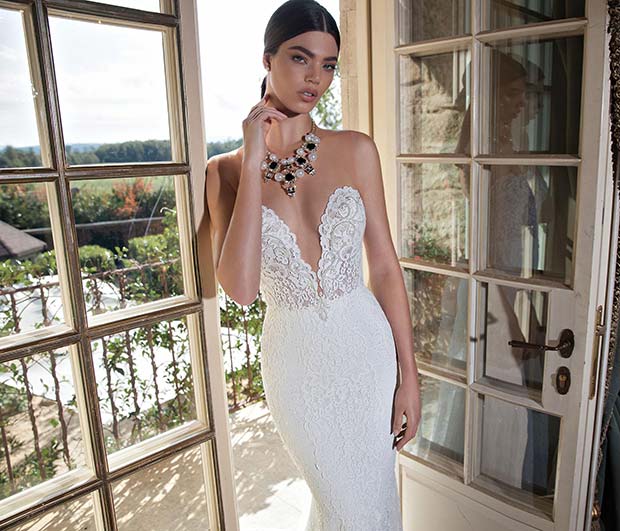 Source
This dress may make it difficult for your future husband to look into your eyes.
Instead of statement necklace, dangling earrings would better frame the face of the bride-to-be.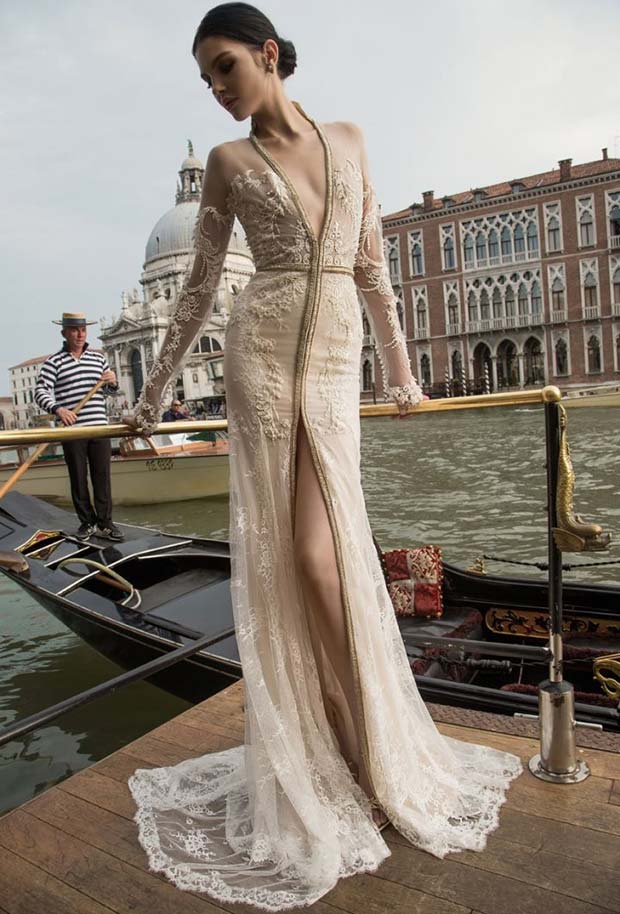 Source
This dramatic and luxurious dress is for a fashion-forward bride. It's a true celebration of femininity. It's designed by talented Inbal Dror.
Wedding Dress with high leg slit is the perfect choice for brides who want the traditional floor-length gown but still want to show off their attractive legs.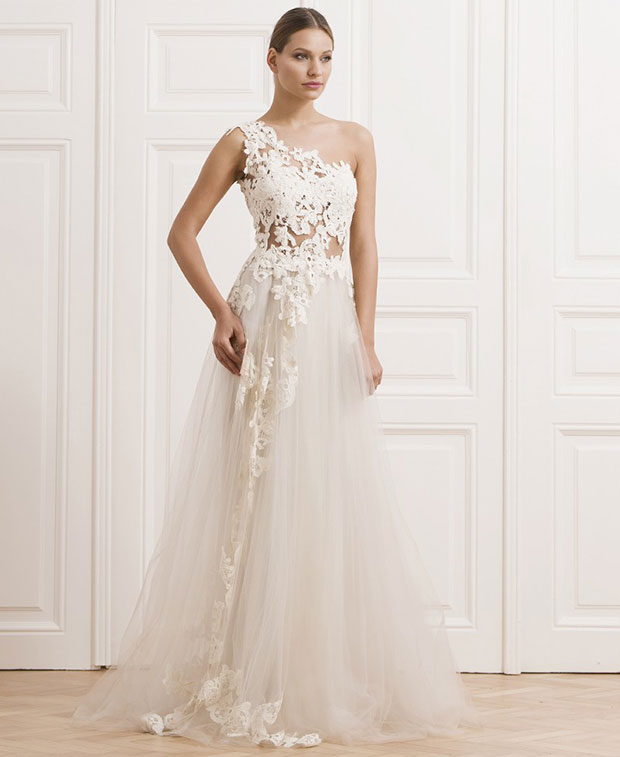 Source
Tulle Wedding Dress is a perfect choice for all wanna be princesses. This material will make your gown fuller due to its fluffiness.  One shouldered lace and small cutouts, add a special touch of allurement to  the dress.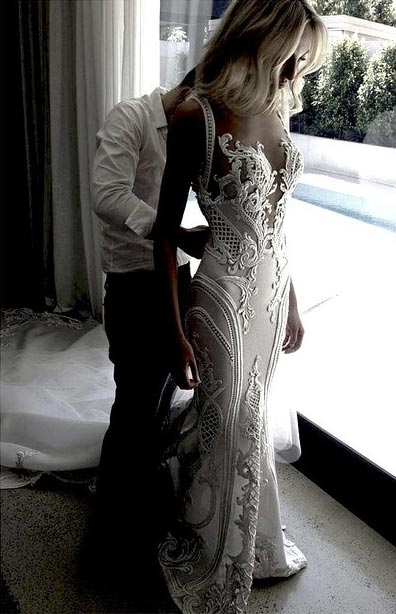 Source
Even if you don't like plunging necklines, you must admit that this gown is gorgeous!
It's designed by J'Aton Couture and fully hand embroidered. The gown was entirely sculptured to the bride's body.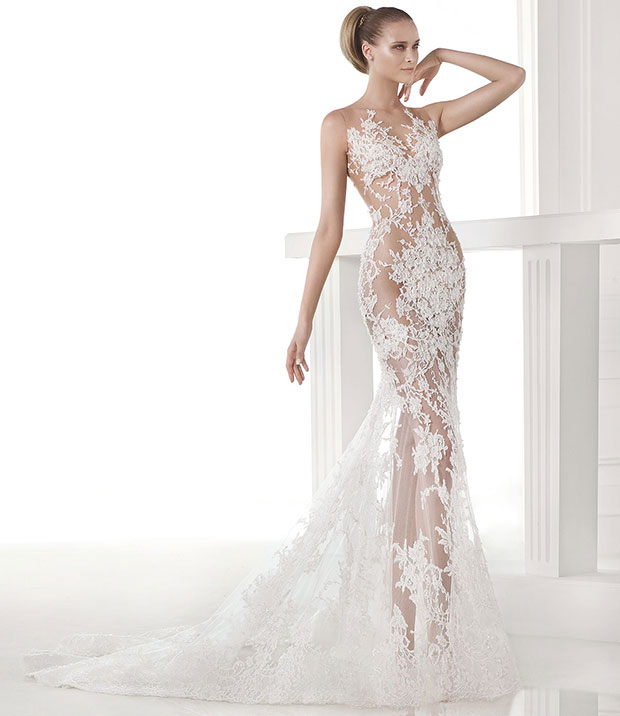 Source
Would you dare to get married in this lace, revealing dress? This dress is only for the most daring brides-to-be.
20. A LINE Wedding Dress WITH TRANSPARENT LACE TOP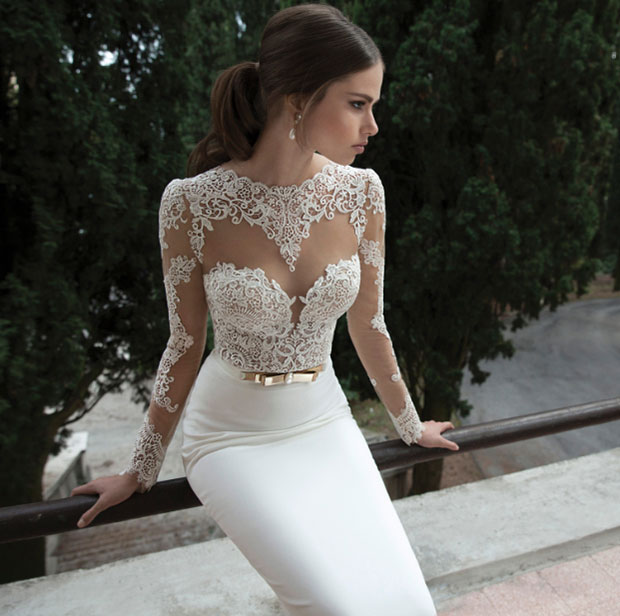 Source
This Berta's wedding gown proves that tasteful and sexy aren't mutually exclusive. Breathtaking!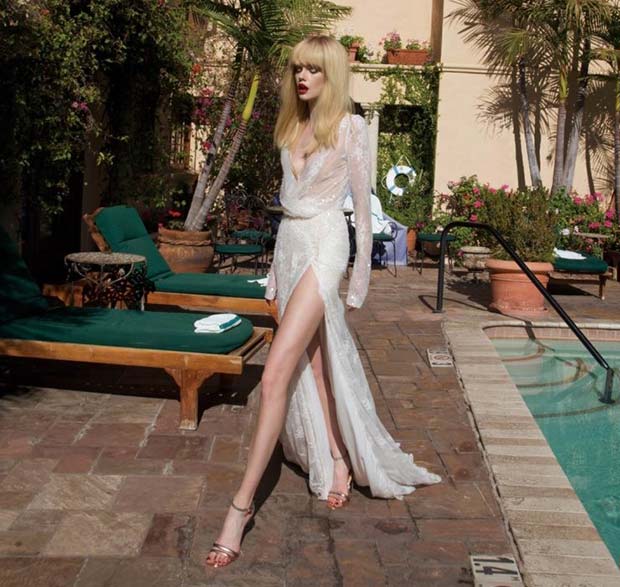 Source
Show off your sexy legs in Wedding Dress with a slit. Gorgeous dress designed by Inbal Dror.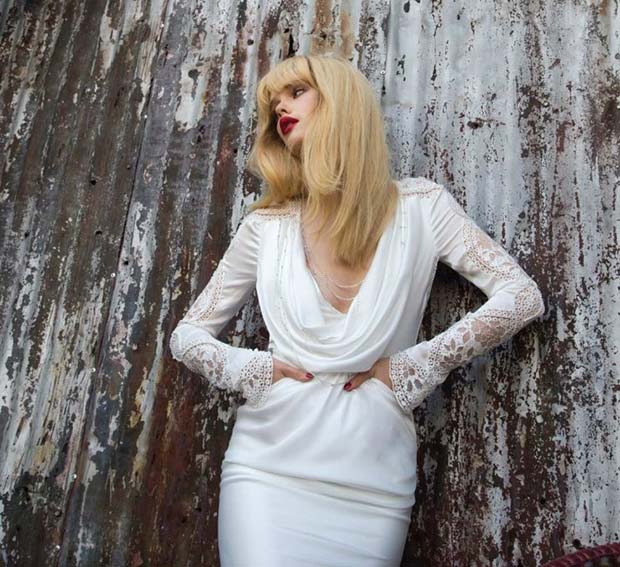 Source
Draw attention to your bust and neckline in this simple but sensual Wedding Dress. Another Inbal Dror's dress.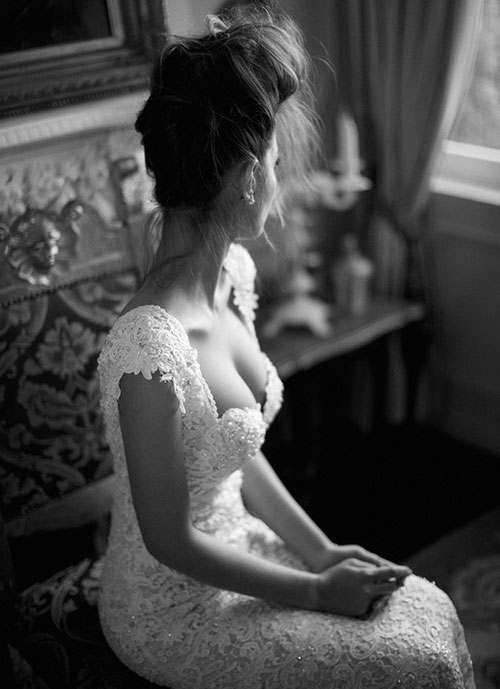 Source: weheartit.com
This type of beaded bodice will add emphasis to your bust.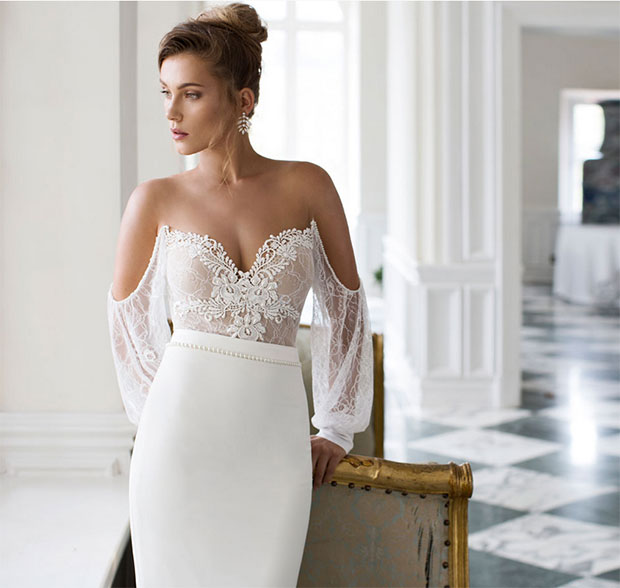 Source
Expose your beautiful skin in this bare shoulders Wedding Dress.
Wedding Dresses like this don't need necklace. You're making enough statement with your bust and shoulders.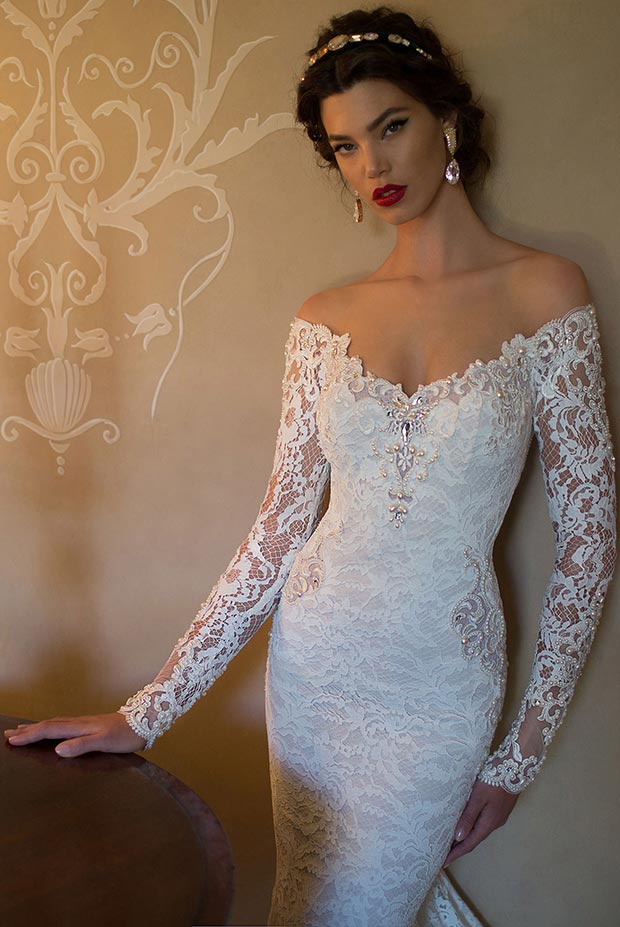 Source
Portrait neckline instantly makes any wedding gown sexy and glamorous.
The lace dress is additionally adorned with pearls. They are a classic and subtle embellishments that make this dress even more romantic and stunning. With dress like this one, there is no need for jewelry.
Comments
comments